Description
TNSBox: Skull Base Training as never before!
Inspired by the best surgeons in the world, we designed a technology that gives you full access to an advanced psychomotor training program divided into 3 parts: Mental (App), Hybrid (Augmented Reality) and Manual (Box).
Get "Neurosurgery", available on Apple Store and Google Play, and open the TNS module.
TNSBox: designed by skull base neurosurgeons
Use it everywhere: at home, in a lab, in an OR
Who the TNS Training System is aimed at:
Medical Students
Trainees
Consultants
Train EVERYWHERE your Dexterity and 3D Imagination
With the TNS Box you can practice different aspects through physical, virtual and augmented reality.
During the last 2 years we learned from trainees the needs in skull base training. With this in mind we designed an effective way to speed up the learning curve.
TNSBox is made to get dexterity and automatisms in the use of endoscope, dissector and tissue forceps. Explore the nasal cavity, reach the sella turcica and remove a tumor located into the pituitary fossa.
TNSBox works with an Augmented Reality app to provide a 360° psychomotor training experience.
Download the "Neurosurgery" App, open the "TNS" module to start your personal training programme:
Mental Training: in this section, divided into 5 chapters, you will learn, through the use of interactive 3D models, aspects of 3D imagination, automatism and strategy related with a TNS approach.
Hybrid Training: in this section you will be guided in transferring these notions from the virtual dimension to your TNS Box through the use of augmented reality: the app joins your physical simulator to give you the possibility to visualise and plan your intervention.
Manual Training: follow the tutorials to learn how to handle the tools included in your kit and how to move around during the exploration.
With the Box of the series you can improve your mental and manual skills using virtual and physical reality.
Mental Training | Apps
Download the Neurosurgery App and learn anatomy, positioning and surgical steps of a procedure.
Hybrid Training | Augmented Reality
Each Box comes with Augmented Reality. Open the Neurosurgery App and frame your marker to begin the experience. If available in your Box, use Mobile Navigation in the same way.
Manual Training | UpSurgeOn Box
Perform all the steps of the most advanced manual training ever. Start with patient positioning, continue with the approach and move to microsurgical steps using a microscope, an exoscope or an endoscope.
You need this level of detail!
TNSBox is the result of a novel process called Scientific 3D Modeling.
ANATOMICAL STRUCTURES:
Septal Cartilage
Vomer
Mucosa
Perpendicular plate of Ethmoid Bone
Sphenoidal Crest
Nasal Cavity
Inferior Choana
Middle Choana
Superior Choana
Sphenoid Sinus
Pituitary Tumor
Which Kit is right for you?
All you need to start: Simulator and Instruments
Black Box
The main container
White base
For head positioning simulation
Mobile Endoscope
Led Endoscope compatible with Android, Windows PC and macOS
AR Marker + Neurosurgery App*
For Augmented Reality
*Free, available for iOS and Android
Microsurgical Instruments*
1 Microsurgical dissector, 1 Microsurgical tissue forceps *Not for medical use. For training purposes only
Phone Holder
Alluminium Phone holder
Lubricant
To increase the realism of the brain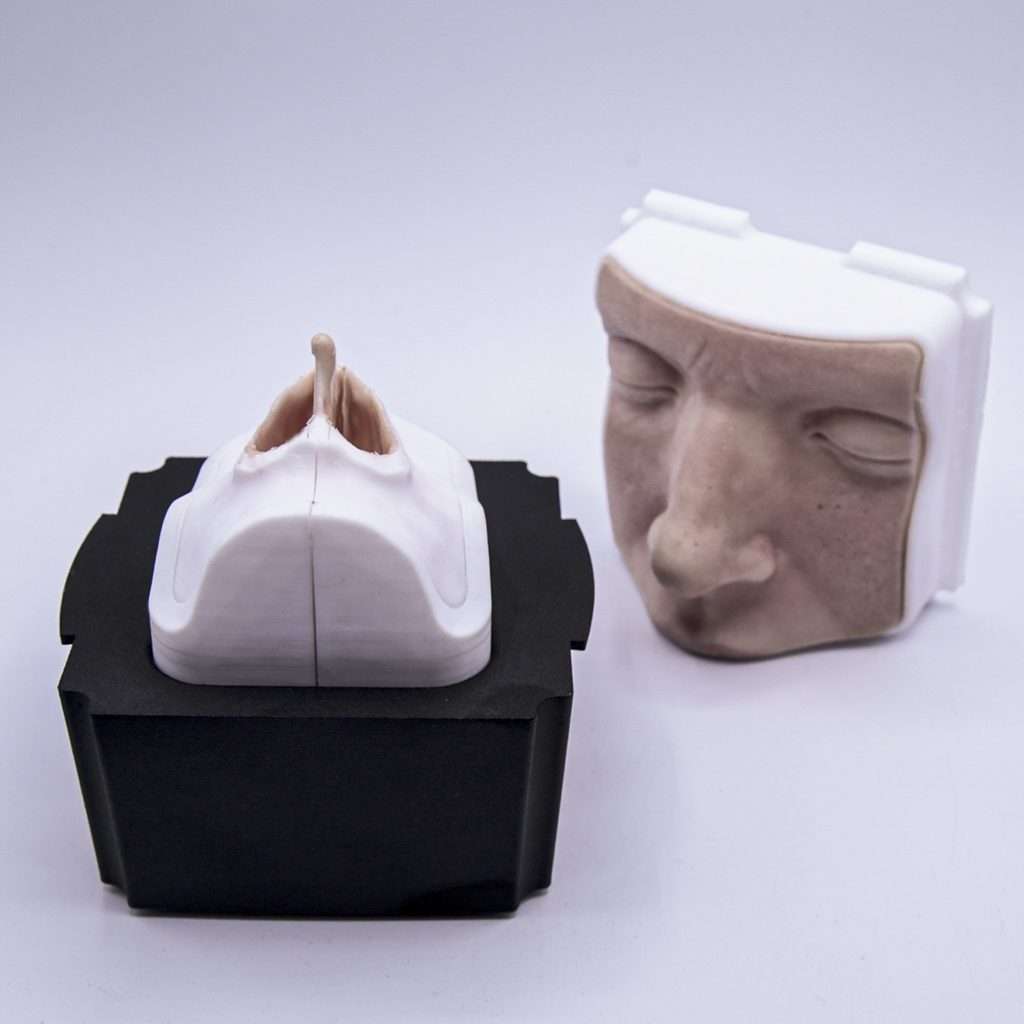 If you already have another Full Kit, add the single Scenario
Mobile Endoscope
Led Endoscope compatible with Android, Windows PC and macOS
AR Marker + Neurosurgery App*
For Augmented Reality
*Free, available for iOS and Android
Microsurgical Instruments*
1 Microsurgical dissector, 1 Microsurgical tissue forceps *Not for medical use. For training purposes only
Phone Holder
Alluminium Phone holder
Lubricant
To increase the realism of the brain